Today is the saddest day of my life since we lost Joseph 18 years ago and before that our parents, Roy and Yolande. We knew Suzy's path was set many months ago when she told us that the chemo was not working and there was nothing left to do.

I am so full of grief and sorrow as I write this but I also know how lucky I am to have been Suzy's big brother!

What a joy she was to everyone she knew. The room lit up when she walked in because she loved life and wanted to have fun! She was irreverent and sassy; always wise cracking and pointing out secrets that embarrassed you so much, yet that was quickly forgotten by all. She knew how to get through tough times, as she proved in her battle with cancer.

I will miss her so much, as all of you will, but what great memories she left us with! What a life well lived, so full of love and joy! Each of us could go on and on about how she lifted us up when we were down and made fun of simple hardships.

We all know her accomplishments well as a daughter, sister, friend, wife, mother and grandmother. She was so in love with Perry and always credited him with taking such good care of her in her sickness. She was so very proud of Amanda and Kevin and Clark. What joy you brought to her each day, right up to her final one. She loved to tell me what little Clark was doing each day and what new things they had discovered when playing together.

Each one of us grieves Suzy's loss today, and I would expect our sadness to continue. It does not go away, as time passes it will fade but will never be forgotten. We are all so lucky to have known Suzy and our lives are richer and fuller because of her.

I love her so much, rest well my little sister!


Do you need someone to talk to about grieving?
Have you considered online grief counseling?
Private, one to one, anytime, anywhere, help with grief
In the interests of transparency, this information about online grief counseling and support is sponsored by BetterHelp. When a person signs up for counseling from write-out-loud.com I receive a commission for providing the link enabling the connection.*
Grieving is a zig, zag, slip, sliding journey.
Some days it can be hard to eat, to breathe, sleep, brush your hair, get out of bed, get dressed, answer your phone, have a shower or, go to work.
Finding a reason, or the energy, to do things you once regarded as so ordinary you did them without thinking, is tough. Especially when you feel alone. 
Is this you? 
Online counseling can offer the support you need.
Despite what well-meaning friends or family might tell you there are no "right" ways to grieve. And neither are there "right" stages which everyone must pass through in a "right" sequence.
When you meet with an online grief counselor you will be understood, and carefully guided towards finding a way forward.
Just fill out the online questionnaire and within minutes you will be assigned the professional grief counselor most suitable for your needs. You don't even have to use your own name if you don't want to.
You'll pay an affordable fee set according to the length of the subscription plan you choose.
Access your counselor whenever you want via chat, messaging, video or phone.
Or find out more about

how online grief counseling works

.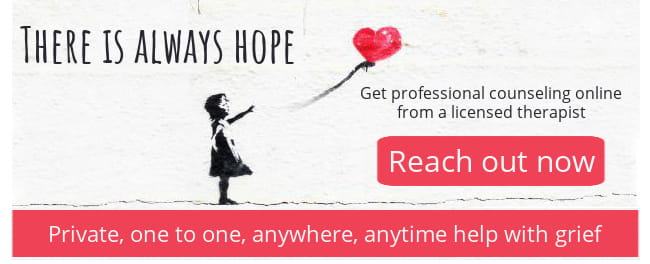 * Read independent BetterHelp customer reviews on TrustPilot.